On becoming a recently qualified member of The British Institute of Agricultural Consultants (BIAC), Farm Consultancy Group's Holly Hawker explains what the involvement will mean to her: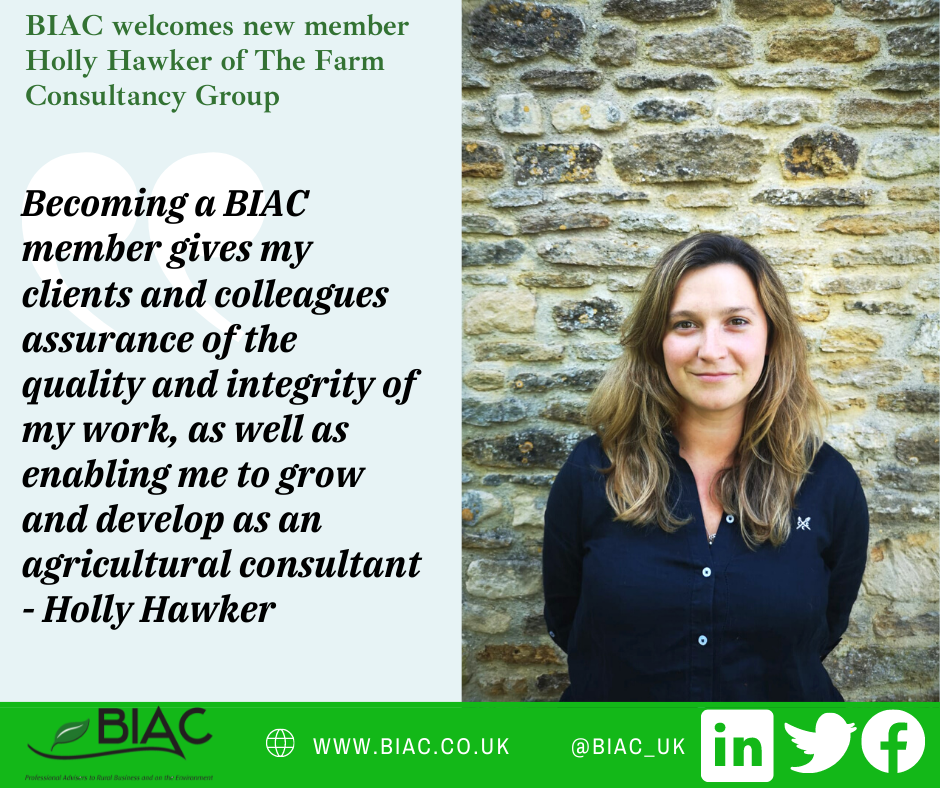 How will being a member of BIAC help you professionally?
Becoming a member of BIAC gives my clients and colleagues assurance of the quality and integrity of my work, as well as enabling me to grow and develop as an agricultural consultant.
BIAC have a wide range of resources which are now available to me, such as training events, newsletters and other literature, as well as networking with current members who have a varied knowledge base and specialisms. I have already booked myself into a BIAC run course in September, which I am very much looking forward to.
It should consolidate a lot of the skills that I have begun to develop since starting practice, and I am eager to see how my consultancy peers tackle the tasks that we see on a day to day basis.
What are you looking to achieve now that you are a member?
I want to ensure that I regularly take advantage of the membership and absorb everything that BIAC has to offer me. As with so many memberships of this nature, I believe you get out what you put in, and so it will be a priority of mine in the coming months/ years to ensure that I am giving it my all.
It will make me a more confident and better equipped consultant, which at the end of the day, is something that I want to be for my clients.
What does it mean to you to secure membership of BIAC
BIAC membership is a goal I set myself shortly after starting practice, and I feel it has come at a good time for me, having been in my current role for two years now and previously linked roles (though not consultancy work).
Recognition of the quality of my work is extremely validating, particularly after a strange year of working largely from home and remotely from my colleagues and peers- you can start to feel a little lost with things and knowing that you are still able to provide good quality work for your clients really did put a spring in my step.